Business Intelligence Consulting
Your Needs
In a weak economy, you need accurate, reliable and accessible data to make the right decisions. You also need tools to give you increased visibility into your operations and this information must be effectively distributed to all key stakeholders. If you feel that your data is too fragmented, requires too much manual consolidation or that you are spending too much on your existing infrastructure, we can help.
Our Solution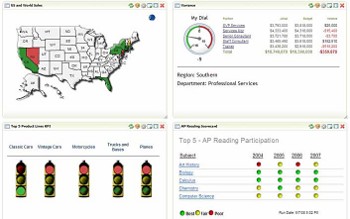 We have the expertise to choose the best Business Intelligence platform for your needs. You can stay in tune with your business by:
Generating Reports from your Web Browser
Periodically Receiving Reports by Email
Configuring Dashboards to Display your Key Performance Indicators
We provide integration with QuickBooks, the leading accounting software for small businesses. In addition, our pre-packaged solution consolidates information from multiple sources, such as the Customer Relationship Management, Inventory Tracking and HR Management databases.
Contact us for a free initial consultation.